'Intoxicated' man is arrested after growling and shouting at flight crew on American Airlines flight from Los Angeles to Salt Lake City
A man has been arrested after ranting at cabin crew and appearing to growl at them and gnaw on his face mask on an American Airlines flight on Monday.
The man identified as Timothy Armstrong by police, 61 years old, from Las Vegas was recorded on cell phone video and he appeared to be intoxicated on the flight from Los Angeles to Salt Lake City.
Passenger Dennis Busch, who posted part of the confrontation to TikTok, claimed that the man had been making racist and sexist comments to other passengers during the flight before he started recording.
After the plane appears to have landed, Armstrong can be seen gesturing his middle finger, while saying 'that's what you think about us,' before quickly walking up the aisle to confront a flight attendant.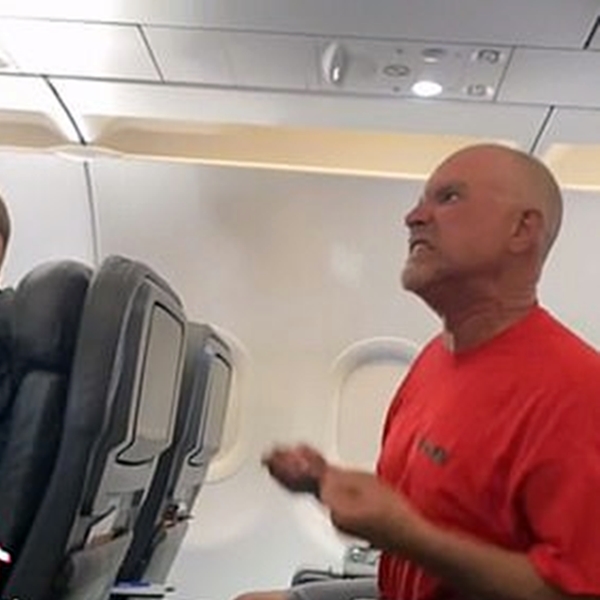 As the flight attendant sees Armstrong coming near him, he tells the passenger to sit down several times.
Armstrong appears to slur his words as he responds: 'What? What? What? What are you going to kick me off this flight? I'm already here.'
He then goes on to say: 'No! That's what you think about us'.
Just seconds later, Armstrong is caught in his seat gesturing the middle finger one last time, saying: 'God Bless America.'
Armstrong is seen growling in his seat and chewing on his face mask.
Then he gets up and confronts the flight attendant once again, saying 'You can't hold us!'
Once the plane's doors opened, two police officers are seen escorting him off the plane.
He was taken to a hospital to be checked out before police cited him for public intoxication.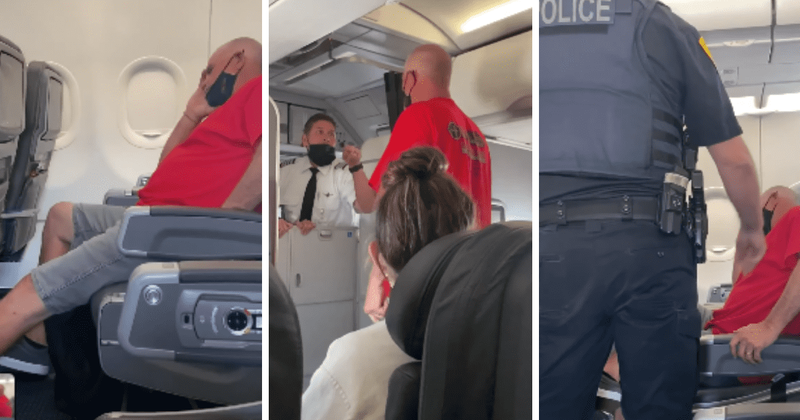 Busch dubbed Armstrong 'Kevin' in the video meaning a male version of Karen: a pejorative slur for white women who make entitled scenes in public
He said Armstrong started to act weirdly when he started yelling at an Asian woman, telling her to sit down while she was standing up to 'to deal with a back issue.'
Busch wrote in an Instagram post: 'He then told flight attendants that the woman and the person she was with 'didn't belong here'.
'After asking him to calm down the man went into a complete meltdown of racist, sexist and belligerent comments, culminating in his arrest at the gate,' Busch wrote.
'We were lucky to have such a well trained crew who kept their cool throughout the flight!'
American Airlines thanked its crew for the way it handled the incident on board the flight.
'We thank our crew for their professionalism and our customers for their understanding,' a company spokesperson added in the statement.  
These types of unruly passenger behavior has become a common problem for flight attendants in 2021, according to a study released by the flight attendants union on July 29.
It included nearly 5,000 responses from flight attendants across 30 airlines between June 25 to July 14.
The online study said 85 percent of flight attendants have dealt with unruly passengers; nearly 1 in 5 have experienced physical incidents in 2021; and 71 percent of flight attendants who filed incident reports to management received no follow up.
Duct taping passengers can be common practice, with United Airlines reporting such incidents aboard their own flight in 2003, 2008 and 2018, The Washington Post reported.
Source : dailymail